Otherwise known as "half-moon," in Italy, the Mezzaluna rocker cutter is also known as the curved blade. Or the Mezza Luna. It is one of a classic cook's tools that can look a bit medieval and isn't found in every household. This knife is made in Italian style.
Mezzaluna rocker cutter is a type of knife with either one or two curved stainless steel blades or a handle at each end.
The mezzaluna rocker cutter is one of the best cutters you can have. It is shaped like a contact lens, with a bow without an arrow. The handles are about two or three inches each, which can often be in plastic and has an easy grip, sometimes even with finger molds. Can help you to cut up herbs like a Thai chef
The best way to use a mezzaluna is to wrap your fingers around these handles, let your thumb curl around to touch your fingers. The blade faces down and its curve bumps out, convex. A mezzaluna can have one, two, or three blades between its handles.
If you're the type that likes to keep things light in the kitchen, mezzaluna would be a good investment as they are fun to use.
Although they don't have the level of precision a knife has, they do have common characteristics with chef's knives, and not many home cooks have restaurant-level knife skills anyway. When you decide to use a mezzaluna, you are opting to save time and at the same time have some fun while at it.
The mezzaluna rocker cutter has lots of uses. It makes chopping fun, easier, and faster to do. It also makes your work in the kitchen light and cuts down your kitchen cutting tasks minimally. To further understand the best use of this rocker cutter, we've highlighted and discussed some of its best use below.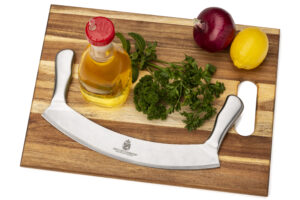 ●      One of the Best herb Chopper's
Mezzaluna cutters are good for chopping herbs, due to the way the knife itself is shaped. You know how good it is to properly chop your herbs neatly, trust me you can't do wrong with a mezzaluna curbed blade for cutting herbs. Herbs cutting can be sometimes tedious to do, but when you use the rocker cutter for mincing and chopping herbs makes things are easy to do. This knife is a parsley cutting machine. Also great for garlic.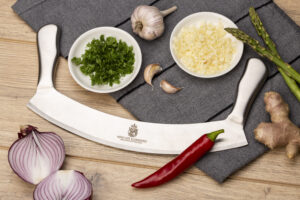 Many pizza lovers have issues effectively cutting their pizza into desirable sizes. Some will try cutting and the sizes will not be equal and can even scatter. But when you use a mezzaluna best pizza cutter, you are sure to get the desired size and shape you want for your pizza every time. Its two-handed pizza cutter design makes it so easy. If you are someone that does not like pizza, I will advise you not to buy it just for pizza as this rocker cutter is a multi-use blade, but as Pizza lovers, you don't want to miss this amazing product. Would also make an awesome gift for someone as it is beautifully packaged. The mezzaluna rocking pizza knife gives the best cutting. Even if you are a commercial pizza seller you can use these tools. It is even very suitable for you to cut your pizza for your customers.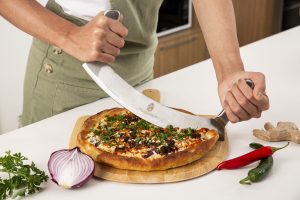 Cutting Onions, Vegetables or Fruit
Sometimes the stress of cutting onions can be something else. You have to think of the shape you want, size, etc. And oftentimes you don't even get what you want, that's not even all you end up dropping a test due to the time you've wasted on dicing the onions. Also, the same goes for cutting vegetables.
Some people take cutting out veggies seriously because there is a desirable size they would want for their meal preparation and sometimes not getting what they want can be quite stressful. Your mezzaluna cutter with its super sharp blade will perfectly cut or dice your onions or vegetables and garlic into the desired shape and size you want. The finished product is what I love about the curved cutter. Also, the smell of fresh herbs diced in the kitchen creates an aromatic bliss I find watermelon and jackfruit also quite easy to cut with this type of knife. Great for cutting up fresh Mint so you can put in s drink or dry out for Tea.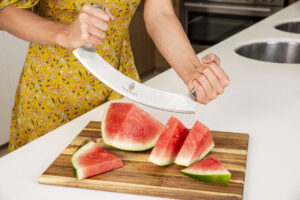 ●      Cutting salad
The easiest chopped salad you'll ever make is from using the new checkered chef Mezzaluna rocker cutter. Salad ingredients might sometimes be tedious to cut, you might even get tired in the process of cutting. But when you use mezzaluna, it makes your work faster and easier. So, using a mezzaluna rocker cutter to cut your salad ingredients is a good decision. Spinach, lettuce, and parsley, garlic are just some that can be cut with ease.
●      Mincing of Chocolate and Nuts
For commercial cutting of chocolate and nuts, using the mezzaluna rocker cutter is the best.
It carefully chops your ingredients with ease. If you are someone that has issues with chopping then you need to get this mezzaluna chopper.
Mincing is also not an easy process, only people who are good at this can mince faster. When you use the cutter, you can mince your chocolate and nuts well without any form of mistakes. You get to have a perfect desired shape and size.
Conclusion
Mezzaluna rocket cutters are Safe and easy to store. You can keep your sharp, commercial-grade stainless steel blade protected by storing your mezzaluna in the specially designed safety sheath included which is safer for the blade and your fingers. Easy to clean! Simply rinse clean or pop it in the dishwasher or hand dry place cover on then pop back in its storage box – it doesn't get easier than that!
Another thing is if you are someone that has advanced arthritis and can no longer use a chef's knife properly. The mezzaluna rocker cutter is an absolute lifesaver since you can push down with the strength of your hands instead of relying on a weakened arm with a wrist that doesn't bend attached to a hand that may not be able to grip a knife the right way. Also, it can be used to chop everything from meats and vegetables and chopping and mincing.
Many of the tasks I use it for are better suited to a chef's knife but a mezzaluna cutter is incredibly versatile and without it, some people won't be able to accomplish much in the kitchen. So if you are someone that finds chef knives stressful and painful, I will advise you to use this special knife. There's a bit of a learning curve but you get used to it quickly.